The Cherry Pit Pack
• A Cherry Pit Pack, also know as the Cherry-Pit-Pac, is a unique heating pad/cold pack made with cherry pits. We like to think of it as Mother Nature's heating pad and cold pack. When warmed in the microwave oven for approximately two minutes, it becomes a safe, portable, non-electric heating pad! Chill it in the freezer and you have a convenient, comfortable cold pack.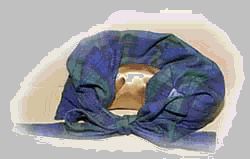 The Cherry-Pit-Pac Microwavable heating pad is a natural, effective way to relieve headaches, backaches, muscular aches and pains, stiff joints, tension, and much, much more. The small, round, smooth cherry pits readily conform to the shape of the body, allowing the heat or cold to penetrate hard to reach areas. It is also a soothing massager when the cherry pits are rolled gently against the body. Works great on the feet too, and is a super stress-reliever after a hectic day!
The Cherry pit microwavable heating pad is all natural, environmentally friendly, and made in the USA. The Cherry-Pit-Pac is a registered medical device with the FDA.
•
The Cherry Pit Pack original is our best seller, but check out these other styles too! The heating pads are designed to target specific areas of the body. All Cherry Pit Pac heating pad styles available in pattern choices you will see when viewing each individual item. (Please note pattern choices may be substituted when necessary.)